Volunteer
South Yorkshire Community Foundation's volunteers are an important part of our grant giving process, helping community groups to make a difference
Distributing funding to community groups over 36 years would not be possible without the passionate and dedicated effort of our volunteers, whether as a grant panel member or their expertise as a Trustee.
With the support of the staff team at South Yorkshire Community Foundation, volunteers have learnt about the impact grant funding has had over the region, thanks to their input in assessing applications, for example.
With SYCF since day one
Anne has been with South Yorkshire Community Foundation since 1986 after being asked to join the Sheffield panel by a Trustee, sensing the opportunity to contribute to community development and to make a difference.
She has played a great role as a volunteer, on our grant panels reading the passion of our community groups.
Volunteers Week 2023 saw her presented with a bouquet of flowers.
"I have learnt so much about people and places in Sheffield and in visiting groups am constantly reminded and amazed at what can be achieved with relatively small amounts of money"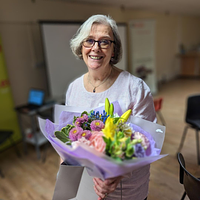 Beyond a place on our grants panel or becoming a Trustee, you can develop through wide ranging volunteering opportunities, which you can find out below.
As a volunteer with South Yorkshire Community Foundation, you will get from us:
An introduction about the Foundation
Details of the responsibilities of your specific volunteer role, the support and training available
Potential panel members also attend a relevant grants panel as an observer to gain an overview of the role
If still interested, then invited for further training to learn about the process
Variety through volunteering
Join a grants assessment panel
Join our independent decision making panels to ensure our grant funding goes to the community groups making the most impact
Marketing
Project Work: helping with new or existing campaigns
Case Studies: writing inspirational stories
Social Media: assisting in managing social media sites
Administration
Helping with our day-to-day office needs with administrative support
Admin duties including minute taking, transcription, editing and proof-reading
Bid writing
Learn the ropes of bid writing
Help SYCF to bring in more funding opportunities to South Yorkshire
Fundraising
Passionate about fundraising? Have a chat about how you can utilise that through SYCF
Project Planning
Support to streamline and create more effective campaigns and projects
Research
Using databases, or using your research capabilities to support project work at the Foundation
South Yorkshire Community Foundation are keen to recruit people from ethnic minorities throughout our volunteering opportunities, to truly represent the diverse make-up of our communities in the region.
If you would like to discuss any aspect of our volunteering offer, then please get in touch.