Giving with SYCF: Henry Boot
Over many years, through a variety of funds administered by South Yorkshire's Community Foundation, Henry Boot have been able to give back to communities in Sheffield.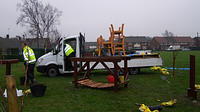 What inspired you to set up a fund with South Yorkshire's Community Foundation?
Henry Boot have held funds with South Yorkshire's Communiy Foundation for many years. They were originally established to enable the company to use our funds to make a purposeful impact within our home city of Sheffield and support those in local communities most in need. Over the years, the number of funds we hold has grown and we are proud of the long term impact that SYCF have made on our behalf.
How does it feel to hear about the stories from community groups who've used your funding to make a difference?
In a word, rewarding! It can be difficult to have visibility over the amazing work done at community level across South Yorkshire. Many of the organisations we have supported are not large charities with marketing budgets and so it can be hard to see the amazing work they do on a daily basis for people who live in our communities. Hearing the stories and getting the chance to meet these groups and learn from them is a rich and rewarding experience.
Do you have any advice for others who may be considering setting up a fund, or getting involved in philanthropy, with SYCF?
Working with the SYCF is a great opportunity to put philanthropy into action. Post-Covid, many businesses and their employees want to better understand the impact of their donations and collaborate with community organisations to tackle societal challenges. The Foundation are expert partners in pairing donors with causes that match their values and create shared impact that makes a huge difference for those it supports.
Take the next step
You can read more about the impact of the funding which Henry Boot have contributed to in our Case Studies section.
Alternatively, if you are interested to find out more about how giving with South Yorkshire's Community Foundation, contact our Head of Philanthropy to arrange a chat.