Helping communities with an Acorn Fund
Having moved to Sheffield over fifty years ago and made a contribution through a variety of professional vocations, Roy Darlison is hoping he can continue that through South Yorkshire's Community Foundation (SYCF) after building up an Acorn Fund of £25,000 to deliver funding for community groups.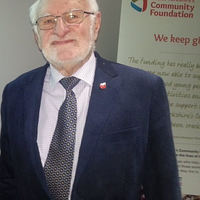 The Acorn fund offered the best of vehicles to act as a way of creating a modest, yet significant, endowed sum accumulated over time, which could then be deployed in ways which gave expression to my professional interests and charitable ambitions

said Roy
He valued how the Acorn Fund allowed for growth over time, helping to build the capacity of SYCF to support newly identified needs and ensure support for local initiatives.
I took the opportunity from a base in Barnsley, where I worked for the Council for Voluntary Service, to lend my energy to the development of SYCF in its early years. It was then that I decided that the Acorn Fund model represented an opportunity to fulfill

said Roy
I have sons who have had, and still have, an interest or a professional role in music which they value and which has made contributions in their adult lives. I see readily the contributions of collective effort which is represented by orchestral and individual playing

Roy explains how his interest in orchestral music and the participation of young people stems closer to home
Roy, through a career that included the City of London and South Yorkshire Probation Service, benefitted from encouragement from individuals and wants young people to benefit from similar help across South Yorkshire.
Support for the mentoring of young people with skills and experience but lacking opportunity seems a further area worthy of support

Roy on his future objectives through the Acorn Fund with South Yorkshire's Community Foundation
If you want to follow Roy's footsteps and begin your journey in building up an Acorn Fund, contact our Head of Philanthropy and Programmes, Michelle Dickinson